Drama
The drama students produce an annual play. Productions have included "Grease," "West Side Story," "South Pacific," "Once On This Island," and "Little Shop of Horrors." Students choreograph dances for these productions and also perform throughout the city. They also attend many on and off Broadway shows. They learn to analyze as well as write new dialogue and lyrics for the plays, which enables them to improve their performance in literature and social studies classes as well as on the Regents.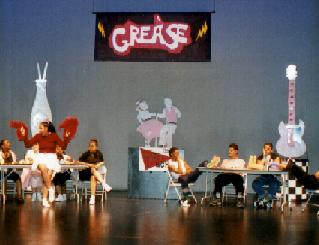 National Honor Society
The student council and National Honor Society sponsor many annual events. In the past they have included Crazy Olympics, and spirit week . They have sponsored activities to raise money for charities including Aids Awareness Week, with different fund raising activities each day, group trivia contests to raise money for children in the hospital, and the annual Penny Harvest that is contributed to a selected charity group. Students have also prepared Puerto Rican Heritage Festivals that coincided with visits from 120 Israeli students and were highlighted by songs, dances, presentations and exchanges with the two groups, and culminated in a feast that the students prepared and shared with the visitors. All these activities help the students learn the importance of community and the value of sharing and teamwork.
peer counselors
The peer counselors participate in fund raising activities and have also worked in soup kitchens, entertained at homes for the elderly, and collected food and clothing for victims of floods, earthquakes, and other disasters. They have brought gifts and comfort to children and the elderly at Calvary Hospital, a hospice for cancer patients. They can also receive school credit for working in the college nursery. Many of them also work as mentors in our summer Bridge Program to help the new students with the transition into high school, these students can receive a work experience credit or be paid through Summer Youth Employment with the Liberty Partnership Program.
Stained Glass
The stained glass students have won scholarships that enable them to take additional courses through the Arts Connection and also provide them with scholarship money for college. They have also participated in summer workshops that offer a stipend along with work experience. The advanced students work in the stained glass room on Saturdays with the potential incoming students for the next year and the parents and community members who attend the Saturday Parent and Community classes. This not only helps them improve their art skills, but learn how to work with other people, organize their time effectively to enable them to perform better in all their classes, and prepare them to be better college students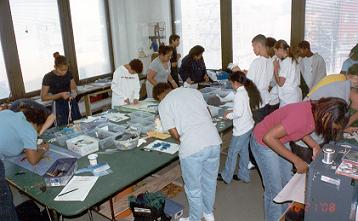 Debate
This year the debate topic was privacy. The AP Biology class had been given a grant from the New York State Bar Association to develop curriculum and used it to study genetics. The debate topic created great opportunity for a collaboration to discuss the ethical issues regarding revealing information related to genetic testing. The law class also participated by having a mock case involving a company's ability to discriminate against an employee because of information regarding a genetic disorder.
The International Debate Education Association and Open Society Institute selected the faculty advisor and a student from our debate team to participate in their summer debate program in Croatia two years ago. One of our debaters scored 13th in the country out of 400 competitors in the National Forensic League competition of 2001. Our students consistently score 1st, 2nd and 3rd place in all divisions. Our seniors have earned full scholarships to Emory University, Northwestern University and a variety of debate camp scholarships to these and many other prestigious institutions. Students who participate in debate improve their skills in writing and research as well as in speaking, and their increased vocabulary and logic skills enable them to perform better on the SATs.
The computer room is available for students to finish classroom projects as well as improve their computer skills with the help of the teacher. They can use the room after school and during free periods.